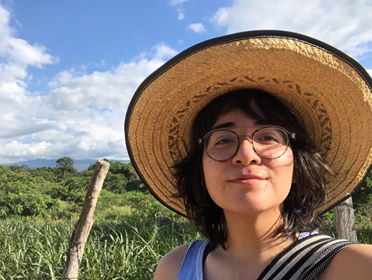 PhD Student, Case Western Reserve University
No matter who you are, and where you come from, you have the place and ability to contribute to science in your own way!!
I do research in the field of Planetary Geophysics; in the big picture this is a means of using physics, like thermodynamics, gravitational data, seismic data, to understand the inner workings of rocky planets and moons. Specifically, I am currently developing models through code to understand how our Moon's core changed, if from liquid to solid, a long time ago. This is really important to understand the Moon's magnetic field history, and these processes in general. In short, I use computers to understand how rocky bodies change over time.
WHY DID YOU CHOOSE THIS FIELD?
I grew up in Houston, Texas, and attended many field trips at the NASA Johnson Space Center that changed my life. From a young age I was obsessed with what was beyond our planet, and that feeling never left.
WHAT DO YOU LOOK AT & THINK, "I WISH YOUNGER ME WOULD HAVE KNOWN THIS WAS POSSIBLE?"
After I finished my undergraduate degree at UC Berkeley, I was able to go to Bogota, Colombia, (where I was born), and spend some time teaching planetary science in K-12 public schools there, all on my account. It really made me proud of the hard work I had put into my education, and that my dreams of sharing that directly with my community could happen.
WHY DO YOU LOVE WORKING IN STEM?
Personally, I love and am very blessed to have the privilege of thinking about a problem, a question, that doesn't really have any influence on the mainstream market economy. I think when I was younger, I may have had anxieties about work that "doesn't impact" politics or products directly, thinking well, is this even important? My code isn't impacting how someone extracts natural resources, or interacts with an advertisement online. But as I have grown older I've learned deeply about how truly all science is political, and the scary reality of how much is used for exploitation...I think there is something to be said for knowledge production for the joy finding greater understanding, and deeply support my colleagues that go a step further and work on actively developing science to liberate all oppressed peoples.
BEST ADVICE FOR NEXT GENERATION?
Science, like art, music, literature, has always been an incredibly important part of culture. Indigenous peoples have studied the stars and how to work the Earth since the beginning. No matter who you are, and where you come from, you have the place and ability to contribute to science in your own way!!
"I tell my students, 'When you get these jobs that you have been so brilliantly trained for, just remember that your real job is that if you are free, you need to free somebody else. If you have some power, then your job is to empower somebody else. This is not just a grab-bag candy game.'" - the great Toni Morrison