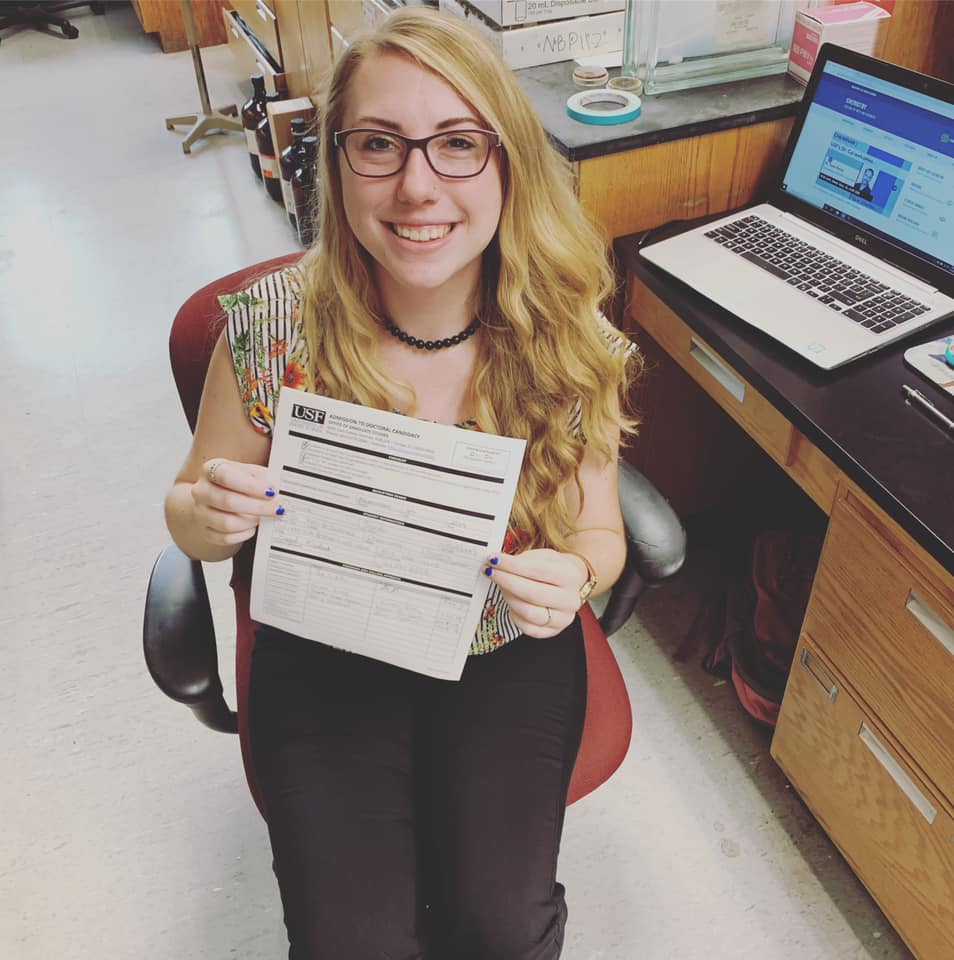 Graduate Student, Researcher, and Teaching Assistant at University of South Florida
Learn to work hard to face challenges, because they will be there. But they are far from impossible to overcome.
I am a graduate student doing research in Marine Natural Products Chemistry and Drug Discovery. I am currently looking into the pharmaceutical properties of metabolites produced by nudibranchs and other Antarctic marine invertebrates. My job deals with bench chemistry as well as computational simulations. On top of that, I am a TA for Organic Chemistry Lab, and I am able to teach and connect with students.
WHY DID YOU CHOOSE THIS FIELD?
When I was growing up in land-locked Colorado, all I would dream about was moving to the ocean. I missed it, and was excited every chance I was able to fly to California and sit in the sand. My junior year of college, getting a B.S. in Chemistry, I watched a documentary on Netflix called "Mission Blue" by marine biologist, Dr. Sylvia Earle. This documentary glorified her marvelous work that in science, and it all centered from her love of the ocean and desire to preserve it. It was an instant realization that I wanted to follow in her footsteps.

I immediately applied to graduate school in Florida, and upon arriving I joined the perfect research group. We are a dive-research lab, and collect samples form all over the world, especially in Antarctica. I study the secondary metabolites produced by several species of marine invertebrates such as nudibranchs and tunicates. I am also currently working on a project with Coral compounds, and has a secondary goal of creating government protected zones to the areas in which these species live.

My professor is a hero. He is kind, smart, and dedicated to empowering all of his students and providing abundant opportunities. He is a strong supporter of women in science, and will not tolerate gender imbalance or inequality.
WHAT DO YOU LOOK AT & THINK, "I WISH YOUNGER ME WOULD HAVE KNOWN THIS WAS POSSIBLE?"
The entire graduate school experience has truly transformed me. I was given positions of authority, that my younger self would have shied away from, by my current self flourishes in. I have learned to "be kind, but not nice". In a position of authority, is important to be respectful and considerate, but also create boundaries, set expectations, and require cooperation. It has truly taught me how to be a leader.

I have taught myself skills that were once intimidating and challenging, that now I feel confident enough to train others. I have recognized my own accomplishments, and learned to admire progress.
WHY DO YOU LOVE WORKING IN STEM?
Working in STEM is perfect for me, because I love to learn. I love being challenged and working hard to overcome obstacles and grow from them. I'm fascinated by the topics I get to learn about as well.

One of the greatest qualities about my research topic is that I genuinely care about it and I'm passionate about it. It feels important to me, and that drives me to work on completing it.
BEST ADVICE FOR NEXT GENERATION?
Learn from different areas. Find what interests you the most. There are so many areas of STEM to choose from, and so many niches you can find yourself in that you will be passionate about.

Learn to work hard to face challenges, because they will be there. But they are far from impossible to overcome. If it was easy, everyone would be doing it. Don't let the rough days steer you away from your goals and your happiness. And learn to be proud of what you can already do, and what you're trying to do.
"Science is simply the word we use to describe a method of organizing our curiosity." Tim Minchin