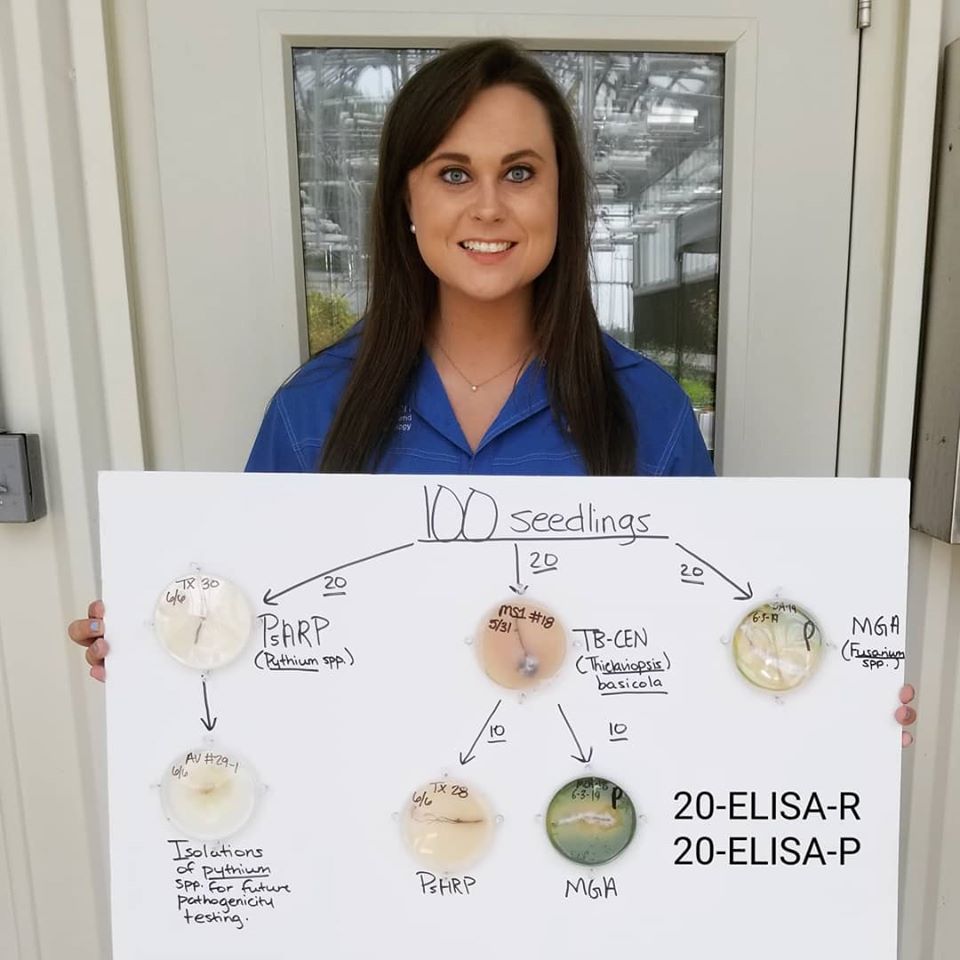 PhD student and graduate research assistant, University of Tennessee
When you pursue a career in STEM you are literally helping create the foundation for how the world will operate in the future.
I am a plant pathologist. So, basically, I study plant diseases. There are 4 main types of pathogens that can cause disease in plants. Those are: Fungi, Bacteria, Viruses, and Nematodes. Primarily, I work with fungal diseases. But, I also enjoy working with nematodes. Another important aspect of plant pathology is not only studying the disease, but also researching management options that can combat those diseases. Plant pathology is a crucial discipline in that we are helping keep your gardens, food crops, golf courses, and forests healthy.
WHY DID YOU CHOOSE THIS FIELD?
I was first introduced to plant sciences when I joined FFA in high school to participate in a public speaking event. After joining the primarily agricultural organization, I soon became green house manager. When I transitioned into my working on my undergraduate degree I decided to pursue plant and soil science. During my undergraduate coursework I was required to take a plant pathology class, and I was instantly hooked. I have been pursuing it as a career ever since. To me, I ultimately picked plant pathology because it is ever changing, always interesting, and directly has an impact on the livelihoods of producers and consumers.
WHAT DO YOU LOOK AT & THINK, "I WISH YOUNGER ME WOULD HAVE KNOWN THIS WAS POSSIBLE?"
I am a first generation college student who does not come from an agricultural background. With that being said, I have a bachelors degree in plant and soil sciences, I am about to graduate with a Masters in plant pathology, and I have been accepted to a plant pathology PhD program this Fall. Looking back, I wish I would have known that all of the doubt, worry, and feelings of inadequacy would in turn fuel my pursuit of achieving my goals. It has taken a lot of work, perseverance, and patience to get were I am. But, every single person has the opportunity to be something great. You just have to never stop pushing yourself, you can do it.
WHY DO YOU LOVE WORKING IN STEM?
This might sound cheesy but everyday I get excited when I remember I'm a scientist. When I was younger, my 4th grade teacher told my mom that I could just not grasp math and science, and she had done all she could do. In reality it was just a big class size, and she did not take the time to reach out to struggling students. My mom had to hire an after school tutor in math and science for me. With the help of my tutor I was able to excel in class, and now I am working in STEM, doing exactly what I was once told I would never be able to do. I look forward to making a difference in the lives of people in my research, and working in STEM lets me accomplish that.
BEST ADVICE FOR NEXT GENERATION?
When you pursue a career in STEM you are literally helping create the foundation for how the world will operate in the future. Science, Technology, Engineering, and Math all produce data that will help us achieve higher levels of economical, sociological, and environmental efficiency and sustainability. That's incredibly cool! All girls have the ability to pursue STEM, and I hope that discouragement does not in your way of making a huge impact on the world!
"To work earnestly, to speak kindly, to act sincerely, to choose thoughtfully that course which occasion and conscience demand; to be womanly always; to be discouraged never." -Chi Omega Symphony