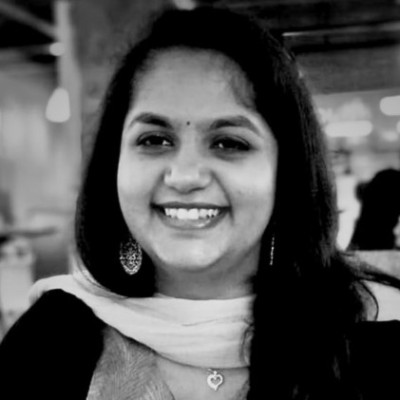 Shravani Krishna Rau Gogineni
Product Designer, AyuRythm
There is a world of possibilities out there for all of you. Be it a scientist, researcher, engineer, anything. You can do it all.

I design the entire product like, in this case the apps for an Ayurvedic Wellness Startup, AyuRythm, helping people get access to holistic wellness in these troubled times. I work with the users to understand their needs and align them with the business goals. I have designed over 100 screens in a span of 4 months for the product and we now have 2500+ users!
WHY DID YOU CHOOSE THIS FIELD?
I have always been passionate about art. However, given the career trajectories and job prospects in the field, I chose Computer Science as my major, even though it was not something my heart was into. Exposure into the field and working with other UI/UX Designers during my internship at Honeywell, gave me a glimpse into how I could merge my passion and profession. While working on a project, the UI designer came up to me and introduced me to this beautiful, amazing world where design matters! She guided me and ignited that spark which had been dormant for years.

Post my MS in CS at NJIT, when I was struggling to get a job as a front-end developer, I decided to stop and take a look at what I really wanted. That was one of the hardest and easiest decisions I have taken till date. I moved back to India and restarted my career as a UI/UX Designer and there has been no turning back since then. I am extremely grateful to everyone in my life who has supported me and helped me reach this stage!
WHAT DO YOU LOOK AT & THINK, "I WISH YOUNGER ME WOULD HAVE KNOWN THIS WAS POSSIBLE?"
Launching my own brand! I started my label in 2017, when I decided to make my career shift. Apart from being a UI/UX Designer, I am also an artist. I make custom work for my clients and the happiness they have on receiving my work is unparalleled.
Looking back, I would have never thought this would have been possible. Having my own art studio, converting my passion into my profession! If only I had known this before, I wouldn't have worried as much.
WHY DO YOU LOVE WORKING IN STEM?
Technology is changing everyday, and the possibilities are endless! Working so closely with users and finding a solution to their problems is what drives me to work everyday. All this wouldn't have been possible if it wasn't for STEM. Add to this my love for design, and this is truly a dream career!
BEST ADVICE FOR NEXT GENERATION?
Follow your heart. Explore, Understand and Create. Never stop dreaming.

There is a world of possibilities out there for all of you. Be it a scientist, researcher, engineer, anything. You can do it all.

My advice would be: stay up to date with the latest in your field while never letting go of your foundation. With advancements everyday, its hard to catch up, if your foundations aren't strong.
"It's kind of fun to do the impossible." ~ Walt Disney

"Happiness can be found even in the darkest of times, if one only remembers to turn on the light." ~ Albus Dumbledore