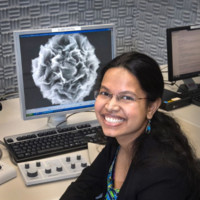 Program Manager: AERTC & CEBIP, Stony Brook University
Give yourself permission to fail.
As Program Manager for the Clean Energy Business Incubator Program (CEBIP) and the Advanced Energy Research and Technology Center (AERTC), a NYS Center of Excellence, both located at Stony Brook University (SBU, I interface with the researchers and incubator clients to understand their needs and provide support through one-on-one meetings, creating workshop solutions for professional and business development of researchers and client companies. I also conduct grant reviews, lead collaboration facilitation and network building etc. Additionally, I manage CEBIP and AERTC collaborators and contractor relations, drives client pipeline creation and intake, and handles marketing and resource management. I am also conducting research on 2D material exfoliation for catalysis applications utilizing my core materials science background to the fullest.
WHY DID YOU CHOOSE THIS FIELD?
I have always been fascinated by the role materials have played in human history from day to day comforts to technological advancements, so much so that entire historical timelines have been named after the material that shaped that era (Stone Age, Bronze Age, Iron Age and now Information Age shaped by Silicon). In school I was generally inclined towards chemistry and making things so I decided to pursue B.Tech in Metallurgical Engineering and Materials Science. All through my undergraduate studies I enjoyed doing experimental research and decided to continue deciphering the structure-property relationships for nano-materials during PhD and post PhD research. I also enjoy science outreach and making connections with people which is the gist of my current position.
WHAT DO YOU LOOK AT & THINK, "I WISH YOUNGER ME WOULD HAVE KNOWN THIS WAS POSSIBLE?"
As a young girl, I used to think scientists are not like normal people. Although I was always interested in science and did well in STEM, I never really saw myself becoming one. I also used to dream about studying in Bombay and New York. It so happens that I did do all those things, I am a materials scientist in New York now. Also, I used to be very shy, not having the confidence to speak up for myself, specially because of the fear of failure. Seeing people advocate for themselves, ask things, acknowledge weakness and work towards improving themselves inspired me to break free. I am still shy but I constantly push myself out of my comfort zone. I wish my younger self knew, it's ok to fail, make sure you learn from it and continue moving forward.
WHY DO YOU LOVE WORKING IN STEM?
I love learning about new things and I love working with my hands. You get plenty of both in the STEM fields. Someone once told me that "as a scientist when you achieve even the smallest increment in human knowledge through your research, you are the first one to know it, of course you share it later with others." That sentiment resonated with me a lot and the joy of creating and advancing human knowledge is what I look forward to. Another aspect of science that drives me is the potential to collaborate. The big problems are solved by many many people working together which suits my personality as I enjoy working with people.
BEST ADVICE FOR NEXT GENERATION?
Give yourself permission to fail. It's ok to not get something right the first time. Keep going and learning from your previous failures. Life and science is fun when you take risks and achieve your goals. Don't let failure stop you.
"The question is not what you look at, but what you see." Henry D. Thoreau