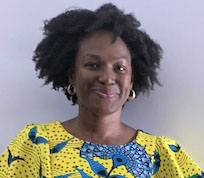 Assistant Professor, Sylvester Comprehensive Cancer Center, Department of Obstetrics, Gynecology & Reproductive Sciences, University of Miami School of Medicine
It is possible, you can achieve your goals through passion, perseverance, preparation and reaching out to others.
I am a cancer scientist. In my laboratory we study the genes and the effect of genes that increase the chances of breast and ovarian cancer in women.
WHY DID YOU CHOOSE THIS FIELD?
I have always had a curious mind. I grew up in a limited resource country but I took every opportunity to participate in laboratory projects, and science 'fair' projects. I won a full scholarship to attend University in Canada. Once I had the opportunity, as an undergraduate to do research in a cancer center. This fueled my interest in biomedical research, which resulted in my PhD in Molecular Genetics at the University of Toronto. During this time, I considered my future and wanted to shift into diseases that had a great impact on my community, region, and race. I had an opportunity to work with three great Clinician (Scientists) females who supported and encouraged me to pursue and blaze my trail. I am still blazing this trail.
WHAT DO YOU LOOK AT & THINK, "I WISH YOUNGER ME WOULD HAVE KNOWN THIS WAS POSSIBLE?"
Being the head of a laboratory. I did not have role models who looked like me. I knew I wanted to do research but couldn't and/or did not visualize what leading a research program looked like. It was not until late in my PhD and during my post-doc that I thought it may be possible.
WHY DO YOU LOVE WORKING IN STEM?
Freedom to create, innovate, solve, be amazed by discoveries, work with multiple disciplines, meet scientists from around the world and mentor.
BEST ADVICE FOR NEXT GENERATION?
It is possible, you can achieve your goals through passion, perseverance, preparation and early on reaching out to others in your field (keep trying with every unanswered email, someone will eventually answer, or meet at a local conference), and build a network.
"For God did not give me a spirit of fear, but of power, and of love, and of a sound mind."