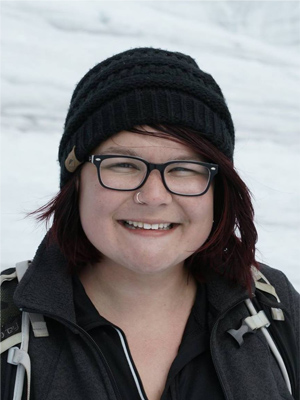 Ph.D. Student at University of Texas at Austin
Don't be discouraged if you aren't good at something right away.
I research glaciers in Greeland using satellite remote sensing data to understand how and why they are changing.
WHY DID YOU CHOOSE THIS FIELD?
I always enjoyed learning about the Earth's climate and when I was in college, I had to opportunity to learn how to use remote sensing data. I thought it was so cool I could study the planet using data from satellites from my computer. I have been able to study the surface of Mars, glaciers in Greenland, and teach others about planetary and Earth exploration through satellite data.
WHAT DO YOU LOOK AT & THINK, "I WISH YOUNGER ME WOULD HAVE KNOWN THIS WAS POSSIBLE?"
I was never good at Earth Science or math in middle and high school, so I didn't think I could become a scientist. All it takes is hard work and the curiosity to pursue your interests. Science is for everyone!
WHY DO YOU LOVE WORKING IN STEM?
I like figuring out the mysteries of glaciers from my computer! I don't need to take an expensive or long field trip to help move my field forward. I can do my work from my office, or even at home!
BEST ADVICE FOR NEXT GENERATION?
Don't be discouraged if you aren't good at something right away. People rarely are! The media makes scientists out to be natural geniuses, but in reality, most of us had to work really hard to get where we are, but we stuck with it because we are passionate about it.
"The more clearly we can focus our attention on the wonders and realities of the universe about us, the less taste we shall have for destruction." - Rachel Carson