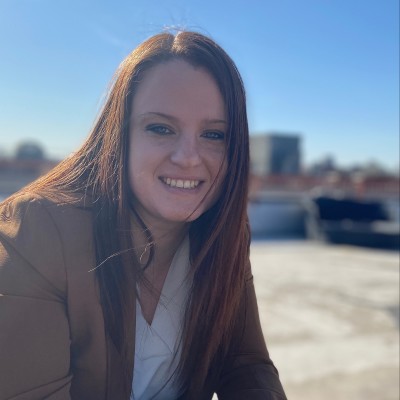 Stephanie Chandler Schober
Solutions Engineer, CARTO
Go for it! It might seem scary and overwhelming at times, but that will change as you continue to grow.
I act as a front door for Sales & the geospatial products available for clients. I assist sales or customers formulate, propose, and breakdown spatial solutions or products. My goal is not dependent on if the sale goes through. My goal is how to feel out and find the best solution to the client and support both the client and CARTO in achieving the best product our platform can provide.

You need a technical background in geo/location intelligence/application development (experience helps). You need to be willing to roll up your sleeves, communicate, and collaborate.
WHY DID YOU CHOOSE THIS FIELD?
I got into GIS through an aerial imaging company. I had a photography background and they were hiring image processors. I did not know what GIS was until I figured out how I could geocode pixels to fall on the earth like a blanket. I turned that blanket into stitching a lot of images together to generate a basemap. I was hooked! It was a whole new world experience for me. I fell down that rabbit hole about 9 years ago discovering all the ways people use those images to extract vectors and datasets to apply in the real world.

I've taken online classes to gain certifications, loads of MOOCs, and everyday read blog posts in Medium to develop my skills on the job. I find mentors by seeking out help in where I struggle. I push my boundaries and skills through data visualization and began developing location intelligence strategies at a commercial real estate company. I worked alongside retailers, insurance, industrial and property management to help build tools, dashboards and applications to fit their needs.

GIS is a constant discovery process and mentors were a crucial piece. There's no way to know everything! It's a constant place to grow and discover.
WHAT DO YOU LOOK AT & THINK, "I WISH YOUNGER ME WOULD HAVE KNOWN THIS WAS POSSIBLE?"
I would tell younger me to keep an open mind, to not be afraid to try new things, that there are no dumb questions, and if someone cannot mentor you the first time that there are options.

I think I tried for a very long time to achieve things on my own. Team efforts became a game-changer for my life personally. If your team can't support you, seek out a new team.
WHY DO YOU LOVE WORKING IN STEM?
Learning something new! I get to work in a place of new discoveries every day. I get to work in a place of growth and I get to work in an environment of opportunities.
BEST ADVICE FOR NEXT GENERATION?
Go for it! It might seem scary and overwhelming at times, but that will change as you continue to grow. You can grow in this field and it is possible for you to achieve an exciting career! We all stand with you!
"I increasingly believe, and remind myself, that my ideas are valuable. People will listen to and appreciate them more based on my confidence conceptualizing and sharing them. Only one idea can be chosen, but everyone has to feel confident to share theirs because it contributes to the final outcome." - Tracy Sun