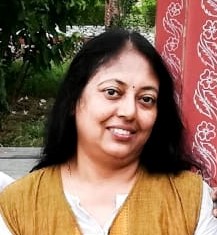 Principal Scientist in Applied Biology Department, CSIR-Indian Institute of Chemical Technology
You have to think what you love to do then it's better to have that as your career.
I do biomedical research, guide Ph.D. and master level students in the field of neurobiology.The major focus of my research is to understand the sexual dimorphisms in cellular and molecular mechanisms behind various mood disorders and neurological disorders affecting brain and behaviour by using animal models.
WHY DID YOU CHOOSE THIS FIELD?
Since my childhood I always found there is a clear gender bias in society. Initially I use to think it is only with the career opportunities clubbed with societal taboos; for example I have seen many girls to discontinue their career including higher studies and highly talented musicians after marriage. But later (when I grew up) I also realized that this discrepancies persists in biomedical research too where to study disease mechanisms people always prefer male animal models for simplicity. This outlook first time came to my mind during doctoral studies on reproductive biology when I felt male and female reproductive systems are so different and can not be compared. Later in my post doc I reoriented my field towards neurobiology then I understand that in brains are also having a distinct sex difference so to address CNS related diseases one can not generalized the findings irrespective of sexes and both sexes should be addressed individually to get insight into the disease mechanisms.
WHAT DO YOU LOOK AT & THINK, "I WISH YOUNGER ME WOULD HAVE KNOWN THIS WAS POSSIBLE?"
To grab the opportunity in right time, by knowing the potentials inside me. I meant in right time we should take right decision.
WHY DO YOU LOVE WORKING IN STEM?
It looks like our experience will help in making younger like minded girls motivated in pursuing their own career of their choice.
BEST ADVICE FOR NEXT GENERATION?
First you have to think what you love to do then it's better to have that as your career. This will keep you naturally motivated even if you sometimes do not get expected recognition. Your approach should be very honest to be happy with.
"When a woman becomes her own best friend, life is easier" or "The most important person to keep promises to, is yourself"