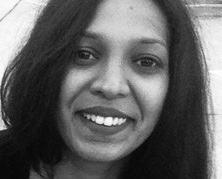 I research and develop novel diagnostic and therapeutic solutions based on physiological signals
Why did you choose this field?
I was part of the prestigious Teach For India Fellowship where I was exposed to the health care needs of my students' communities. This inspired me to pursue a PhD in Biomedical Engineering
What do you look at and think, "I wish younger me would have known this was possible"?
Getting a Doctorate in the STEM field
Why do you love working in STEM?
I wake up looking forward to applying my intellect to challenging societal problems
Best advice for next generation?
You are worthy, capable and highly intelligent. Use your core strengths to your advantage.
Inspo quote / fun fact / role model
"We must understand now so as not to fear tomorrow." - Marie Curie