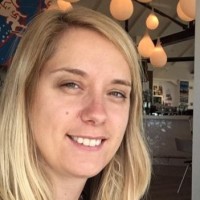 Visual Communication & Outreach, GeoScience Limited
Try to believe that anything is possible and go out of your comfort zone!
My role is a very varied role, but based mainly around communicating energy/science (particularly geothermal) through visual resources and outreach work. GeoScience Limited were one of the partners on the United Downs Deep Geothermal Power project in Cornwall, where as well as being technical partners we also implemented very successful educational and outreach programmes. All of this work was based on raising awareness of geothermal energy both in the UK and around the world in local and worldwide communities, and it was very important part of the project. We created and delivered educational sessions to primary up to university age students, both at school and also in a dedicated classroom on the project site. Sessions included interactional elements such as an animation based around a character called Miss Molecule (a H20 Molecule!), that we used to explain the geothermal system to primary school children, they also then had to complete a physical relay-style race that solidified the concepts shown in the animation! Another main part of my role was to create visual graphics that were used in the education and outreach programmes, this included graphical panels that held project information on the walls of the site classroom, flyers, brand material, logos and comic books among other elements. I also monitored, maintained and built the projects social media feeds, website and online presence. This role has now come to an end but we look forward to being involved in other geothermal/energy projects as part of both the technical and dissemination teams.
WHY DID YOU CHOOSE THIS FIELD?
Before working at GeoScience Limited I was a Design & Technology teacher at a local secondary school, and although I loved teaching, but I also wanted to gain some industry experience. When the UDDGP project received it's funding (they had been trying to get funding for over 10 years) I was therefore perfectly placed to help GeoScience Limited with it's deliverable of the education and visual communication aspects of the project. It has been very inspiring to work with people who are highly considered in their fields of work and I have learnt so much about geology, geothermal and energy in the process. With my background in teaching I really enjoyed being able to inspire children and young adults to aspire to work in science and by becoming a STEM ambassador I have been able to do that through multiple outreach activities, which will continue through other projects that we as a company gain. Also by being more of a visual communicator I was able to use my skills by helping to break down very complex concepts for children and the general public to be able to understand, and it has been essential to explain how many different roles are needed for a new energy project to become successful.
WHAT DO YOU LOOK AT & THINK, "I WISH YOUNGER ME WOULD HAVE KNOWN THIS WAS POSSIBLE?"
I never for one moment though I would be working in science, I was very focussed on design and visual careers. But by being in the right place at the right time I found myself in a whole new industry which has opened my eyes to the possibilities of having more variables in my work. I would say that you should take every opportunity, even if it seems far away from what you envisage doing at a young age because it can lead you into careers that you wouldn't have even though about before. I have learnt so much by being able to combine my different backgrounds and I really feel like my career has blossomed from being part of just one project.
WHY DO YOU LOVE WORKING IN STEM?
Learning something new everyday and pushing myself out of my comfort zone. I love the idea of STEAM (Science, technology, engineering, ARTS, and Mathematics!) and feel there are so many corss overs between them, art is a great way of communicating and inspiring people into those subjects and shouldn't be separate.
BEST ADVICE FOR NEXT GENERATION?
Try to believe that anything is possible and go out of your comfort zone - you never know where it will take you!
"Creativity is intelligence having fun." – Albert Einstein