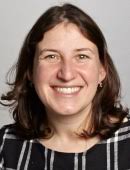 I have the best job in the world. I'm a physician scientist and I study the mechanisms underlying HIV-1 infection. I also work with future physician scientists in advising and supporting their training.
Why did you choose this field?
I have always been driven towards science and medicine. It was as a high school student in a laboratory that I met two MD/PhD students who shared their training path and career goals and that sounded exactly in line with what I wanted to do.
What do you look at and think, "I wish younger me would have known this was possible"?
Having a family and a career path was something that was always mystifying. I've learned that is it possible, albeit challenging, but building my family and biomedical career has been extremely humbling and gratifying.
Why do you love working in STEM?
I love the idea of investigating a problem and finding new information that can improve our ability to care for patients.
Best advice for next generation?
It's not about how much you know, it's about how passionate you are.
Inspo quote / fun fact / role model
"Just believe in yourself. Even if you don't, pretend that you do and, at some point, you will."– Venus Williams