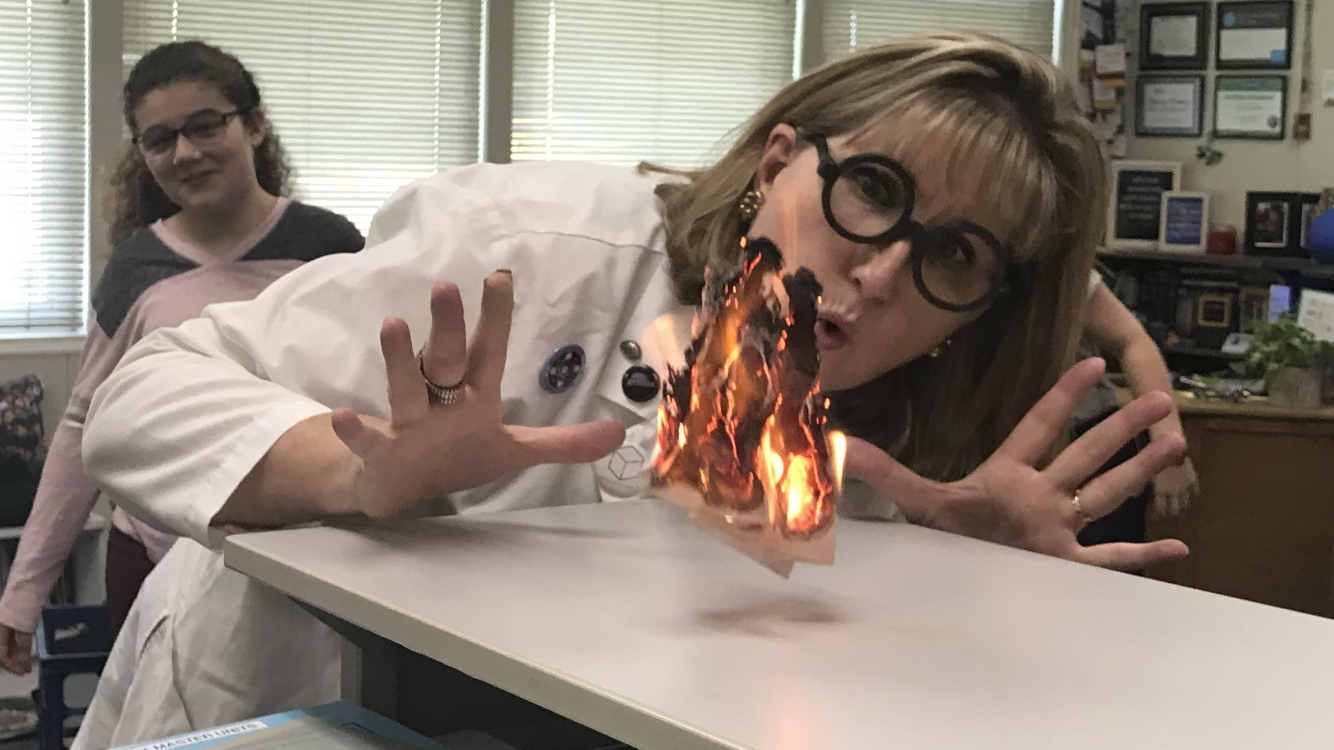 Elementary teacher, Manteca Unified School District
Follow your passion, listen to your heart, be fearless!
I'm an educator and a lead learner.
WHY DID YOU CHOOSE THIS FIELD?
I was always an overachiever, wanting the highest grade, the loudest accolades, the most gold stars. It wasn't until high school, though, that I met two people who helped me understand that learning isn't about being first or the best, it's about being inspired. I thank Mr. Cardoza and Mrs. Topp for that revelation. More than inspiring my love of learning, they have become the models for how I have tried to live my life: encouraging people to keep trying, no matter what; acting with integrity; and always being present and available when students fail or succeed.

How did they inspire me? By helping me find things to believe in – starting with myself. They remain my only friends from my high school days.

After college, I began working in public relations, which is basically teaching people by giving them good information and motivating them to take action. My focus shifted to community relations, where I found myself working with community groups and helping them find new ways to accomplish their goals. When I married and started a family, I worked as a musician and liturgy director at my church, nurturing and supporting people in their roles as readers, singers, musicians, and all the other participants in services. When our children were both old enough to enter school, my husband encouraged me to try teaching.

I talked to Mr. Cardoza about this possibility. He encouraged me, but insisted that I understand one thing very clearly: teaching is a vocation, not merely a job. He told me if I wanted to teach, I had to believe in both my students and their ability to succeed.

I started substitute teaching in our children's school district, and then took two long-term sub jobs. I enjoyed crafting lessons, but when I saw the faces of students at the moment when things finally made sense, I truly felt the calling.

I don't recall the exact moment (and certainly not what my face must have looked like) when I finally realized that I could teach, that I could make a difference in the lives of my students. But I know that the greatest feeling for a teacher, the greatest reward, is helping others learn, understand and succeed.
WHAT DO YOU LOOK AT & THINK, "I WISH YOUNGER ME WOULD HAVE KNOWN THIS WAS POSSIBLE?"
What I realize being someone who was "late to teaching" (got my credential at age 40) is that everything I did - every job I had, every skill I learned along the way, every person I spoke with, every step I took forward - prepared me and brought me to this vocation of education. I wish younger me had known that I had it in me to be a teacher.
WHY DO YOU LOVE WORKING IN STEM?
Carlos was a puzzle. He had a bright, engaging smile, loved to read, and was very well spoken. However, when it came to writing assignments, he froze. Two years before he came to me in fifth grade, he had qualified for resource help with writing skills. Goals were set, but it was painfully obvious that Carlos just could not get words down on paper.

Halfway through the year, we were reading Dear Mr. Henshaw by Beverly Cleary, which Carlos very much enjoyed. But when I asked the class to write about their favorite part of the book, Carlos could not, or would not, do the assignment. I made him stay in at recess to work on it with me.

As Carlos sullenly settled in, I reached for my iPad, without Carlos seeing me, and asked him just to talk about his favorite part of the book. Relaxing a little, he began to discuss what he most enjoyed about the book. When he was done talking, I tapped my screen a couple of times, and then asked him to read what was on it. He started reading aloud, then said, "That's what I just said!" I urged him to finish reading it out loud. When he was done, I told him that's all I wanted him to do: write like he talks. That's when I saw the look of understanding on his face; he was making the connection between what he had said and what was showing on the screen. My "aha moment" was that there must be even more ways that technology could help students overcome obstacles and find success.

The smile on his face made me determined to find them.
BEST ADVICE FOR NEXT GENERATION?
Follow your passion, listen to your heart, be fearless!
"Be the change you wish to see in the world." - Gandhi