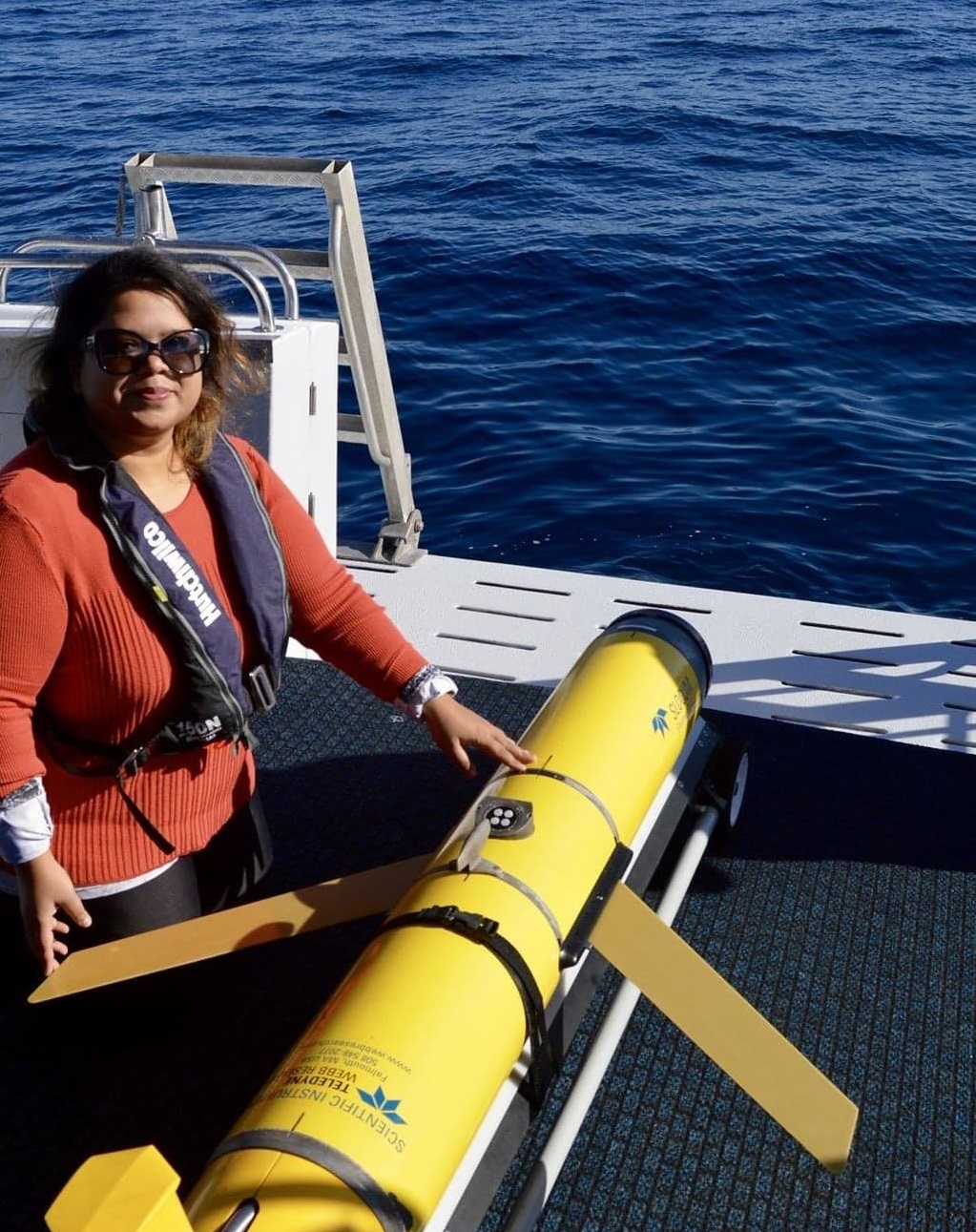 Research Fellow (Physical Oceanography), University of Western Australia (UWA)
I want to tell my younger self, 'Look, I made it out of that stereotyped thinking.'
I am an Ocean Scientist. I spend a lot of time studying ocean gravity currents and surface currents. My research involves analysing glider, mooring, radar, and satellite data.
WHY DID YOU CHOOSE THIS FIELD?
I always loved to look at the ocean from childhood - I wished to know what is going on underwater. I always thought it will always stay with 'I wish', but Australia played a significant role to make it come true.

After finishing college, I graduated in Civil Engineering, which was a far cry from the science and physics of the ocean. I started to become fascinated by the physics of water and had decided to do a final year thesis in Numerical Simulation of Dead Zone Flows in an Open Channel with a Side Cavity.

My life started to change afterwards. My hard work and publications related to water resources helped me to receive a full scholarship to pursue a PhD in Oceanography in UWA Australia. Upon my arrival in Australia, my fascination for oceans tripled. This big island is surrounded by three large oceans, and the mechanism involved in different currents fascinated me. Although my work mostly involved studying and coding on the computer, on several occasions I got to go to the open ocean to deploy gliders and mooring for ocean measurements. It is very interesting how you can know what is going on under the ocean from a simple image of a satellite.

All of these lead me to realise I want to learn more about these oceans and let the world know by publishing our research outcomes.
WHAT DO YOU LOOK AT & THINK, "I WISH YOUNGER ME WOULD HAVE KNOWN THIS WAS POSSIBLE?"
For a girl or woman, having babies and taking care of her family is considered by some and historically considered as their primary role;. I always wanted to work against this stereotype through my work. I was mocked by friends and relatives several times because of my choice of a long career path and for dedicating my time outside of the family. Now I have my own voice.

In the first year of my PhD, I received a marine science award for my research discovery. Later in the final year, my research was featured in IMOS Newsletter worldwide. When I see my research works are published in Journals, I want to tell my younger self, 'Look, I made it out of that stereotyped thinking.'
WHY DO YOU LOVE WORKING IN STEM?
Every day I look forward to learning something new. The whole world will know these discoveries, and it is the main driving force. I love the fact that I am contributing to the world. I feel proud to be a part of the STEM family.
BEST ADVICE FOR NEXT GENERATION?
Have enthusiasm to learn something new - choose to be a scholar. Do hard work - it never fails. And don't believe those stereotypes - you can prove them wrong. Only you know how far you can go - you just need your willpower. People will recognize you by your name.
"Dream big and live your story." Disney