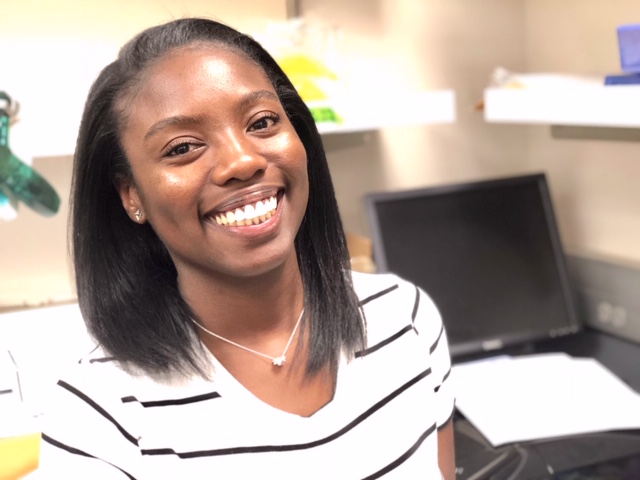 Research Scientist, PhD Candidate, MD Anderson Cancer Center
Don't be afraid to follow what interests you.
I research the human gut microbiota and it's potential impact on cancer immunotherapies and their side effects. This research is being performed as I also work towards a PhD in Microbiology and Infectious Diseases
WHY DID YOU CHOOSE THIS FIELD?
As a young girl, I was always drawn to science, which was odd because there were no STEM professionals in my family. I worked hard and asked a lot of questions which made me stand out to my teachers. In high school, I was given a fantastic and life-changing opportunity to participate in an all-girl robotics team; this experience opened my eyes to all kinds of career options for people who loved science and that ultimately lead me to major in Biotechnology as an undergrad. But, even further than that, my participation on the robotics team really highlighted how interdisciplinary STEM fields can be and the non-technical skills I developed (i.e. problem solving, public speaking, community organizing, interpersonal relations, etc) helped me become a leader in many STEM-related organizations and jobs, and made me passionate about sharing STEM with the greater community.
WHAT DO YOU LOOK AT & THINK, "I WISH YOUNGER ME WOULD HAVE KNOWN THIS WAS POSSIBLE?"
I would have never seen myself receiving advanced degrees in STEM as a young girl because no one in my family had reached those milestones; it is very challenging to envision yourself doing something that you have never had exposure to. But I completed my B.S. in Biotechnology, M.S. in Biological Sciences, and am half-way through my PhD in Microbiology and Infectious Diseases.
WHY DO YOU LOVE WORKING IN STEM?
The environment of discovery is infectious: the career is built upon exploration of the unknown. And in biology and biomedical fields, we are given the opportunity to discover new things about our world and our bodies which can be used to make life better for all living things. It is mesmerizing and inspiring... and fun!
BEST ADVICE FOR NEXT GENERATION?
Don't be afraid to follow what interests you. We need curious individuals who think differently to continue solving some of life's biggest mysteries. There is a unique opportunity for girls in STEM because our perspective is valuable.
"The future belongs to those who believe in the beauty of their dreams" -- Eleanor Roosevelt