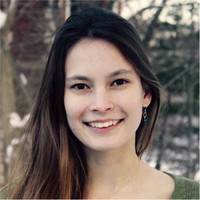 Neuroscience PhD Student, Columbia University Irving Medical Center
Stick with your own interests no matter what others say.
I am currently pursuing my PhD in Neuroscience at Columbia with a focus on immunoengineering and developing cancer therapeutics. I am working on several different projects at the moment, but my main one uses CAR-T cell therapy - a treatment that involves engineering an immune cell to recognize and attack cancerous cells.
WHY DID YOU CHOOSE THIS FIELD?
Pursuing a PhD in science was not something that I planned. In fact, when I was in high school, I was actually encouraged to drop my chemistry course, because I "did not think like a scientist" and would never get into a good college. Being quite stubborn, I replied that I was "not there to get good grades, but rather to learn". I actually wrote my college essay around this incident and I think this is ironically what got me into school. I feel quite lucky that I was then forced to take another science course in college, because it led me to pursue research in the sciences which I soon realized was nothing like being in class. In fact, research with the right mentors can be a place where creative and artistic types can flourish just as much as people who think about science in "traditional ways". It is actually an asset to think differently than others, because it allows you to come up with new thoughts and contribute different ideas and perspectives. Science needs all types - creatives and non-creatives - to really advance the field.
WHAT DO YOU LOOK AT & THINK, "I WISH YOUNGER ME WOULD HAVE KNOWN THIS WAS POSSIBLE?"
Just the fact that I am even pursuing a higher degree in science would seem shocking to me at a younger age. I thought that I was going to become a professional pianist or pursue something within the arts. It's important to always keep an open mind - you never know where your journey might lead you!
WHY DO YOU LOVE WORKING IN STEM?
My favorite thing about working in STEM and pursuing a PhD is the freedom to potentially come up with your own ideas. Every day I wake up excited to go into lab, because of the possibility that I might discover something new.
BEST ADVICE FOR NEXT GENERATION?
In my opinion, the best advice is to just stick with your own interests no matter what others say. Also important to note is that sometimes your interests are driven by who is around you or your own personal experiences. It's essential to find good mentors who will encourage, but not create your own path.
Curiosity is one of the great secrets of happiness.