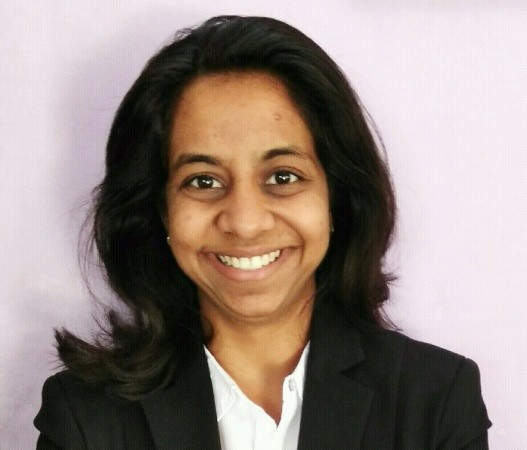 Mechanical Engineer
Schlumberger Technology Corporation

We need more girls in STEM for the perspective we bring in, our attitude towards life, and our resilience!
My day-to-day activities deal with design, development, and commercialization of flow control valves used with downhole completions in the Oil & Gas industry. During the course of a new project, I design different aspects of the valve using 3D modeling tools such as Creo; run simulations in tools such as ANSYS; build calculations based on pure solid mechanics and fundamentals of machine design. Then, once the design is ready, I am involved with prototyping the parts, test them as per requirements, and then finally commercialize them. These activities also involve a whole lot of interfacing with global teams located in Houston, France, India, and China - and wearing multiple hats at the same time. My team and I continuously communicate with our stakeholders including the customers, global marketing, manufacturing, and supply chain teams. This just calls for a well rounded product development cycle!
Apart from my product development hat, I am also involved in developing machine learning and artificial intelligence enabled solutions and products to build on the Industry 4.0 movement at Schlumberger. I am working on building an AI interface that would help automate redundant tasks on the field, and improve the efficiency of different operations performed using data analysis and learning techniques. This involves looking at data, building scripts in MATLAB/Python to understand data patterns, and build models around those patterns.
WHY DID YOU CHOOSE THIS FIELD?
I have always been fascinated with machines and how they work! My Dad used to repair stuff in the house in his spare time, and I think that really introduced me to the world of machines and mechanisms. Throughout school, mathematics and science intrigued the curious kid inside, and I found myself devouring books at the library. Apart from the school curriculum, I realized I liked making things work! Dr. APJ Abdul Kalam - also known as the Missle Man of India - was a role model I looked up to all through my growing years. Over time, through high school, and then through my Engineering days, I realized that Engineering really is my calling. I vividly remember this one project during my Junior year in college where we developed an automated telescope from scratch that would track a particular astronomical body through its journey during the night sky. The interplay of different disciplines in that project - machine design, electronics, software development, electrical engineering - they convinced the curious kid in me that right engineering can result in making useful products. And I think that is what really drives me even to this day - being able to make a difference in people's lives through innovation!
WHAT DO YOU LOOK AT & THINK, "I WISH YOUNGER ME WOULD HAVE KNOWN THIS WAS POSSIBLE?"
Graduating with a Masters of Science degree in Mechanical Engineering from Texas A&M University!
I am a small town girl, and I am proud of being one. However, coming from a remote, rural village in India, even basic education was a struggle during the late 90's. A 10 year old me had to travel ~80 odd kilometers each day, huddled along with 10 other kids - for quality education. Constant support from my family and bunch of scholarships saw me graduating with a Bachelors degree in Mechanical Engineering from one of the best Engineering colleges in India (College of Engineering Pune). However, at that point, I thought this was it - because we absolutely had no resources to go for a grad level degree. But I wanted to go for premium education in the field of Product Design and kept applying for scholarships, appearing for exams, and applications to the elite universities in USA. I wish the 20 year old me knew that crazy dreams are very much achievable - and it is absolutely possible for a girl to graduate with a MS in heavy male dominated field of Mechanical Engineering - on the sheer basis of willpower and hard work!
WHY DO YOU LOVE WORKING IN STEM?
I love STEM purely for the reasons that everything is governed by a bunch of principles and that everything in the realm of science has a logical explanation which can be used to make things better! Right from the movement of astronomical bodies to the metabolism of the tiniest cell - everything can be quantified. And once we know something, we can find ways of implementing it for the society and significantly improving the quality of life.
Every day at work, and over the weekends when working on my personal projects, I wake up with the curiosity of discovering new things, making ideas work, and exploring new avenues in product design, artificial intelligence, and engineering.
BEST ADVICE FOR NEXT GENERATION?
There exists a whole lot of uncharted territories in the world of science, and you could be the next Marie Curie of your generation!
We need more girls in STEM for the perspective we bring in, our attitude towards life, and our resilience!
"You have never lived until you have done something for someone who can never repay you"
~Anonymous
(This has been the fundamental principle governing my life since a long time now!)