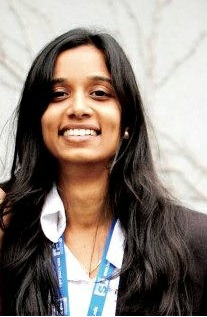 PhD Researcher, The Open University
My research project is about investigating the role of microwave energy to heat lunar soil to build 3D printed structures on the Moon. This can enable humans utilize the in-situ resource on the Moon to build habitats and infrastructure.
WHY DID YOU CHOOSE THIS FIELD?
I want to be an astronaut. This was my dream when I was a child. I am continuing my efforts to pursue this dream. I graduated as an aeronautical engineer from India and went on to do my Masters in Science from International Space University (ISU) in France. It was during my internship at NASA Ames (as part of my Masters curriculum), that I decided to further study on use of in-situ resources to facilitate sustainable human presence on other planetary bodies.
I also carried out a fieldwork in Mars Desert Research Station (MDRS) as a Crew Scientist in 2014.
Specifically, the research topic of my PhD is very close to my heart and I want to continue working in this field.
WHAT DO YOU LOOK AT & THINK, "I WISH YOUNGER ME WOULD HAVE KNOWN THIS WAS POSSIBLE?"
Going to NASA Ames for an internship was like an amazing achievement for me.
Being able to visit NASA, ESA, Russian Space Agency, CNES (French Space Agency) and DLR (German Space Agency) were enriching and amazing experiences.
Meeting astronauts like Samantha Cristoferriti and Robert Thirsk were like the best moments in life.
WHY DO YOU LOVE WORKING IN STEM?
Because I love the fact that Science is a field which can enable me to make this world and worlds beyond, a better place for humanity to live and thrive on.
Science is a tool for exploration and it feeds my curiosity.
I wake up looking forward to helping humanity achieve unimaginable feats and explore the universe for knowledge and survival.
BEST ADVICE FOR NEXT GENERATION?
Dream big. To always remember is that it is our dreams and commitment to those dreams that define our capability, not the gender.
The Earth is the cradle of humanity, but mankind cannot stay in the cradle forever. - Konstantin Tsiolkovsky