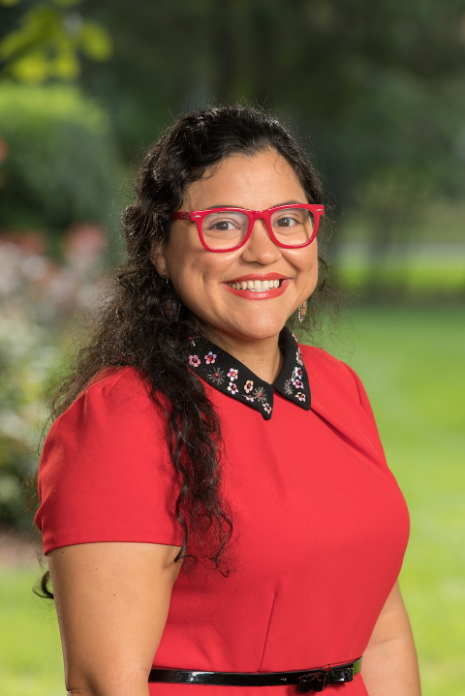 Assistant Professor of Biology
Undergraduate Science Program Research Coordinator
Bay Path University
You will fail more times than you will succeed but those times you do, are all worth it.
My job has three pillars. Science education, hands-on research and community outreach. As a professor, I teach biochemistry and biotechnology courses. As a researcher, I lead a team of undergraduate students to understand the molecular basis of enzymes at work. I also oversee all the undergraduate research done in my department. As a community leader, I bring science out of the lab into middle school classrooms with a special focus in empowering young girls who are interested in STEM. My biggest ongoing project is creating a women in STEM wall with information combining our students (middle school and undergraduate) stories with other scientists in Western Massachusetts and the world in every school that teaches middle schoolers in Holyoke, Massachusetts.
WHY DID YOU CHOOSE THIS FIELD?
As a young girl, I was interested in understanding how things work. I would take everything apart even when sometimes I had extra pieces when putting it back together, just to have a better idea of the mechanisms. No one in my family really understands where I got that curiosity from. When I was in middle school, my mom was diagnosed with Leukemia and she died only 6 months later. Right after, I decided to go to our neighborhood vocational high school and chose practical nursing as my vocation. While completing my patient contact hours I realized that I wanted more. I didn't want to be the nurse following recommendations from the doctors. I wanted to be the doctor. That was a tough transition, I had no college prep courses, my mom only got to be in school until 9th grade and my dad at least graduated from high school, therefore, I had no idea what I was getting myself into. I only knew that I needed a college degree to go into medical school. I went to University of Puerto Rico in my hometown, Cayey. I struggled at lot my first year of college but I didn't give up. I learned about research at my college through the RISE program. A program that sent several undergraduate students to do research over the summer in the US. Although I had a very discouraging first interview, I went and signed up to do another interview for another research opportunity. In my first interview I was told my English was not good enough, my grades my freshman year were below average and that I should consider a different career. This only fueled my passion to keep trying. It was then that I interviewed with Dr. Craig Martin from University of Massachusetts. He had 2 spots for the summer program and 2 student who were perfect for the program. My academic file wasn't perfect but he went back and found funding for one extra student and gave me a chance to do research over the summer in his lab. Once I did research, my goals changes and I wanted to go into graduate school and become a scientist! I wasn't sure what discipline to pick therefore, I applied to the umbrella program in Molecular and Cellular Biology and that way I got to try a bit of everything and fell in love with biochemistry and biophysics.
WHAT DO YOU LOOK AT & THINK, "I WISH YOUNGER ME WOULD HAVE KNOWN THIS WAS POSSIBLE?"
Every other year there is one of those for me. Moving to US without having anyone I knew and making a great group of friends. Earning fellowships in a way that they supported most of my graduate school experience. Winning poster sessions even though English is my second language. Do a teaching and research post-doc at University of Pennsylvania. Becoming the only Latina professor at my department. Becoming the youngest member of the Biophysical society education committee and now the chair. Owning a house. I really wish younger me knew all the she would accomplish in those days when all felt like a mistake and was very doubtful.
WHY DO YOU LOVE WORKING IN STEM?
I live for my students "AHA" moments. Lifting the veil on some misconception in STEM. When my students get data that only they know in the world. Nothing compares to that feeling.
BEST ADVICE FOR NEXT GENERATION?
You will fail more times than you will succeed but those times you do, are all worth it. I teach at an all-women's college at the undergraduate level and I see many young women who will take over the world.
"One failure does not define your worth."